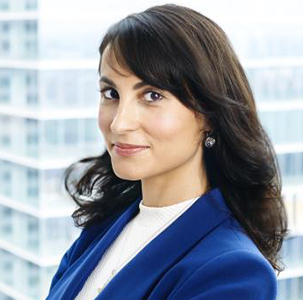 Roxana is a Partner responsible for leading our growth in the Toronto market by continuing to build relationships with families and enhancing our value proposition. She is also a member of our Senior Leadership Team.
Roxana was an executive at The Bank of Nova Scotia where she led multiple businesses in Wealth Management and Banking as the head of Specialty Business Banking, which included Healthcare & Professional Banking, as a Managing Director in Wealth Management and as President & CEO of Scotiatrust, working with some of Canada's most successful families in the delivery of Wealth Management and Estate and Trust services, as well as Philanthropic services.
Prior to that, Roxana was Head of Legal for Global Asset Management at the bank for many years where she led the legal, governance and corporate secretarial functions for the bank's international asset management companies and public investment funds. She joined the bank in 2011 via the DundeeWealth Inc. acquisition, where she led the legal team for the investment and portfolio management businesses as Vice President, Legal. Ms. Tavana began her capital markets and legal career at the firm of Davies Ward Phillips & Vineberg LLP where she articled and became a Securities Law Associate.
Roxana's community involvement includes the Board of Directors of METRAC, an organization working to end violence against women and youth.